Barreling over the hills of the Pacific Northwest, hungry and tired from a very long drive out of Montana, we finally saw the skyline of Seattle peaking above the horizon. Certainly was a beautiful evening, but we were both extremely tired and in no mood to "enjoy" the overcast clouds and Mt. Rainier on the horizon, though it was beautiful in retrospect. We quickly called our friend who works in the area, and had an extra bedroom we could stay, and trekked over there as soon as we could. This was about 20 minutes Northeast of the city, but fortunately it was a fairly easy drive.
I wanted to shower in air conditioning, and I wanted a home cooked meal, and I wanted to put my feet up on a coffee table for a change (the little pleasures? I suppose that's what I craved most). I suppose I'm not cut out for long periods of time out in the wilderness, though those days were amazing in all of their own charming ways. We arrived at about 7pm PST and I thanked our hosts and hopped into the shower right away. They owned a great apartment between the Microsoft Headquarters in Redmond and the city, so it was really a great place to stay. Wow, I cannot describe how awesome it felt to shower after so long camping out and taking showers outside, with cold water, and toweling off in the wind. We wrapped up the showers, went out to a pub as a treat for our hosts and crashed at 10pm, just like you'd expect us elderly folks to do.
Our First Day in Seattle
Yeah, there's no doubt that Seattle is overcast basically all the time. Our first day there, however, had some sun peaking through the clouds on two occasions while we were out exploring the city. Much like Portland, Seattle certainly wears its "try pants". A city full of the socially conscience, it was a very enjoyable experience go visit the sights.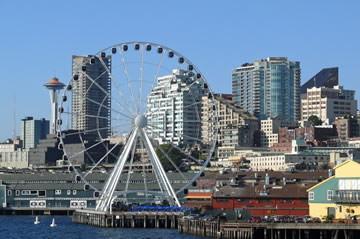 We woke up early and headed to the Space Needle hoping it wasn't going to be too busy so early in the day. As it turned out, this was a good strategy, particularly on a Tuesday, We rode the elevator up and looked out over the city and Mt. Rainier peaking above the horizon as the sun was coming up. It was indeed a beautiful way to start the morning of this city tour.
We were lucky to have native friends in the city, as they pointed us to all of the best places to go that we likely wouldn't have thought of if we had been there on our own with only tripadvisor to guide us. Our friends recommended we head to the museum of flight, which is apparently a really awesome place, so we headed over there after grabbing breakfast at a local hot spot (I had pancakes, which were great!).  We made it to the Museum of Flight around noon, and this place was huge! There was a ton to see.
There's tons of planes, of all types, and from all eras at this museum. Everything from SR-71s to pre-WWI planes were on display in the main building. We spent at least 2 hours inside there before trekking outside. There museum goes on and on, and you could spend a solid 6 hours there if you're interested in learning more about aerospace. After about 3 hours checking planes out we headed back into the city for some parks, and other sights.  This will be covered in the next post.