We arrived in San Francisco that afternoon, and were exhausted. I had searched for a good campground area to stay near town and found one about 20 miles out. We set up the tent and got "cozy" with our neighbors. They were a young, 'hipster' couple who had made an awesome stew for dinner. As tired as we were from this long drive, we didn't have it in us to cook at all that evening. This was excellent stew, with beans and beef, if I recall, and we were beat after a good meal and putting up our accommodations for the evening
We had some plans for our time in San Francisco, though most of them involved seeing landmarks and trying some of the more famous local "bistros" and cafes around. The next morning we were up bright and early, even before the sun was peaking through our tent, and were packing up to spend the day in town. I think I'd gotten way too used to waking up at this time of the day.  It was starting to become second nature now.
A Golden Gate Kind of Morning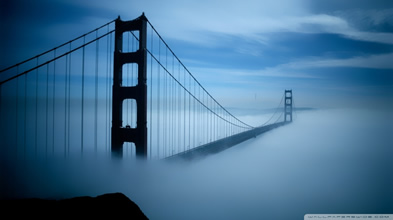 As many people who have tried to get a view of the Golden Gate Bridge on a summer morning are aware, you cannot see it through the fog. We mistakenly didn't really think this through when heading to the Presidio (the forested area on the side away from the bridge). Once we arrived, we were greeted by a pretty lousy view of a fog covered bay.  This can be beautiful in itself, as the supports were jutting out from the fog rolling over the bay that morning. Yet, we wanted to see more of the area in the sunlight once the fog had dissipated, so we decided to park and take a break near the pavilion in the Presidio for awhile.
I sat and read a book on a bench while my boyfriend biked around the park area some. By about 8:30am, however, the fog had gone and we were able to capture some great pictures and see the amazing view of the bay. This really is a great area to visit and it's awesome San Francisco has preserved the Presidio and kept it from being developed. It's a beautiful location for a park and adds a ton to the city's charms.
Exploring the City and Its Quaint Charms
There's a lot to do in San Francisco, whether you want to see the "Full House" house, or want to take a trolley up the winding streets to find a quaint cafe to sit and stare into the bay. You could spend days just enjoying the many parts of the city and what it has to offer.
We stopped at a cafe in the historic district after hanging out at the Presidio for awhile, and had some "specialty" coffees, which ran upwards of $7 each!. Well worth it however, even after our money was getting stretched by the trip we were on.  Afterwards we took a trolley up to the museum to see an exhibit I had heard about being in town, Monet. It was excellent, had a lot of paintings I hadn't seen before even when I was in France as this was the travelling collection of his in the New York Museum of Art.
We didn't have a ton of plans after this, so we decided to hang out in some of the local areas throughout the day. There is a whole lot of different places, shops, boutiques in San Fran to explore, and we decided to spend the afternoon there. Tomorrow we were going to head off to Yosemite and see the national park, likely camping there for the night.