After a good week stint in the Badlands of South Dakota, we faced a decision. Where do we head next? Do we go to Idaho? (I had heard good things about the landscapes there) or do we head to Montana to see Glacier National Park and the surrounding areas. I had heard nothing but good things about Glacier, and the idea of passing it by on this road trip felt like a crime, as a result, that's where we went next.
Now, it should be noted before I begin the recounting of this story that it's by no means a short trip from the Badlands to Glacier Valley Montana. This trip took the better part of a day and the next morning to arrive there. This was the point in the trip where I began to realize just how huge the United States is, particularly the Western states. They go on and on. That's not to say we didn't thoroughly enjoy the drive, being with someone you're close with when you travel always makes the road lighter and the progress more endurable.
A Beautiful June Morning in Glacier
We arrived 2 days after leaving South Dakota, relatively exhausted, so we set up camp in the first area we encountered within the park itself. After a quick meal, we slept the drive off and awoke the next morning at about. The next morning we awoke naturally quite early, with the sun this time. It was beautiful out, and you could feel that this was going to be a great day to bike. We weren't in the best spot, so we drove a short while to the next site after packing up our gear and then hopped on our bikes. What greeted us down the road was beyond words, at least for my small brain at the time.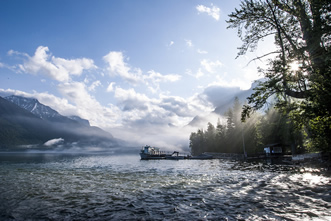 Have you ever been to a place, and experienced something, that pictures just cannot even get close to expressing? That was our 4 days at Glacier National. We spent the first day riding over 20 miles around mountains, lakes, and thousands of years old cut rocks. I've never felt so fortunate to live in America, where we have protected these locations for over a hundred years. Glacier National Park is truly a treasure to behold.
This was my first time there, but this experience really struck me at a core level. No matter how many amazing places we biked to, how many hills we climbed to see some new area, everything was breathtaking. Everything seemed right in the world every hour we spent in this place. You can call me sappy if you want, but this was a truly magnificent place to be in.
Certain times of day were the best to travel around this park, as tourists and other hikers were rare or not even seen at all. Early mornings and late evenings (before sunset) were by far the best, though it made it difficult to ensure you could get back to camp in time for the evening trips. Helicopter rides are a common tourist attraction for the park, and I'm not selfish enough to think they should stop these tours for my view. However, the early mornings were quite, and you could be introspective for hours looking out over amazing skies and from excellent locales.
We biked over to Lake McDonald on the second day, and put our feet into the waters. Brrrr, it was indeed cold, and what you'd expect from a place marked with the scars of eons of glacier movement and receding.  We had lunch by the water and enjoyed one of the most breathtaking areas of the park. We biked down to the Glacier Park Lodge, thinking we may stay in for a night.  However, instead we wound up outside again. The sounds and the calm were just too much, maybe tomorrow? Maybe.
After a further 3 days of trekking we decided once to stay in the Many Glacier Hotel. Great aaccommodations and it was nice getting out of the wilderness for a day. It wasn't the cheapest place in the world, but the food was really great. We had huckleberry pancakes, a first for me, and the next morning we rented a kayak and went out on the lake nearby (I cannot for the life of me remember its name, sorry!)
All together, one of the more amazing parts of our journey across the northern Midwest, though if I were to rank locations, Glacier would be the absolute top.