After a great afternoon at the museum we headed out to Kerry Park. This park is on the outskirts of the city and offers some stellar views of Seattle. It seemed like the clouds may roll away for a bit this afternoon, so we were hopeful we'd have a nicer afternoon than morning weather wise. We had plans to bike around the park a ways, but it was not really feasible to do so once we arrived as Kerry Park is rather small, and a bit smaller than we predicted prior to arrival. Going up the hill, we instead walked around the park and took in the city views. It was a very pretty location, and we wound up having snacks on a bench and looked out over the city.
This was a great way to close out the day, on its own, but after about 2 hours in the park exploring and enjoying the views, we decided to head into the city with our friends for a bar/pub crawl and check out some of the watering holes. Unfortunately off the top of my head now I don't recall any of their names, but the beer selection in Seattle was excellent at every place we went. They were all incredibly delicious and locally made beers.  This had been one of the things my boyfriend wanted to explore most during this cross country trip, the local beer varieties.  This is not something we had a lot of time and exposure to until this point, having been camping and in national parks for much of our trip so far.
There are a lot of great local beers and bars in Seattle, and this was without a doubt one of the better parts of the trip for us. We drank until around 11pm and then headed back to our friend's place to sleep off the bender and a day of travelling around the city. Our friend was a huge help, and it was awesome to spend two nights in a real bed and use a real shower.  The next morning we got up early, said our goodbyes, and continued on.
Onward to Portland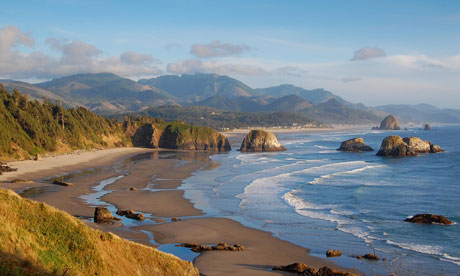 Riding out from Seattle at about 7:30am, we headed to Portland. This was a fairly short drive, at least compared to the Western plain states we just passed through. It took us about 3 hours to get there from start to finish. The Oregon coast was incredibly beautiful on this drive, however. About half of the way there, we stopped and biked around the coastline for about an hour and stopped and got lunch at a local diner afterwards.  As many of you may know, I had been using a particularly effective HCG drops treatment to help me lose weight for some time during this trip. I used HCG to help me burn fat, during exercise, and also build up leaner muscle.  I had been on this diet for much of the trip, though I wasn't following the normal super diet protocol as I was using it build muscle instead of burn just fat.
As a result of being on this protocol, I tried to avoid too strenuous of activity on a daily basis, unless I had a lot of calories to offset the fat burning properties of using HCG. So we limited our time that day, since we hadn't exactly eaten very well all day, to maybe 30 minutes to 1 hour at a time. After about an hour I was exhausted and we needed to find real food to eat for lunch, not campfire food. So the diner was welcome relief.  However, Portland is where we were headed, as we had heard nothing but good things from friends about it. As a little bit of a "hipster" ourselves, we were hopeful it would jive with our lifestyles.