Starting out this blog with a tale of my around the nation journey a few years ago sounded like the best start as any for the readers. I began my journey from Milwaukee Wisconsin, where I was at the time, and traveled west into South Dakota. There's not much in South Dakota, and I'm sure I sound a bit predictable saying so. The journey through South Dakota was a long one, lasting about 5 hours. On the way we saw sites for the Corn Palace all over the place, and many signs for "Wall's Drug". We weren't sure what this place was, if it was a pharmacy, if it was a chain of stores, or if there was just the one of them
.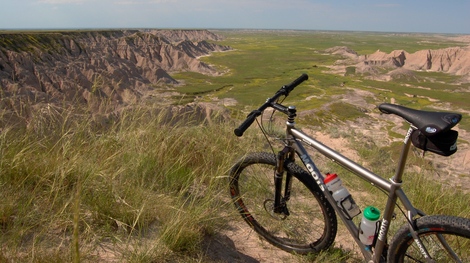 Along the way we stopped at limited locations, and didn't make it even to Mount Rushmore. We had a specific goal in mind, as my boyfriend at the time and I were avid mountain bikers and the outdoors type. We made it across the state in roughly 5 hours, and hit the well-known "Badlands'.  I was shocked by how far reaching and desolate the area was, but also absolutely breathtaking as well. We got out of the car as soon as we hit the edge of the area, and sat down on a hill drinking water and enjoying the view.
The Ride – Roaming Through the Badlands
Our first day in the Badlands riding was markedly excellent. We road for at least 5 hours total, covering approximately 25 miles according to my iPhone tracker. There was significant amount of time spent due to stoppages for scenery, lunch and enjoying areas we were in. The Badlands went from a grassy terrain to rocky ridges and more "desert" rather quickly as we progressed throughout the day. Still, it was a gorgeous afternoon to ride.
We decided to set up camp, rather than going to a nearby town to see if we could seek a airbnb or similar accommodation. Really though, the closest town was over one hour from where we were. On a cross country vacation, you realize how short one hour really is to drive, at least for the typical creature comforts. However, after 5 solid hours of driving, and hours of biking, we had no energy for this.  We camped out in the middle of the area alone, likely no other souls within 100 miles in any direction. It's hard to put into perspective what that feels like, but it was a challenge for me to imagine this now that I think about it again.
I've never really relied to heavily on needing other people around to be feel safe and secure, but at the time I was too caught up in the stars, and seeing the Milky Way so clearly above to notice how alone we were. Without rescue, without any ability to contact help (no cell signal for miles and miles), this is a truly isolating area. This can be both wonderful, if you are with someone else like I was, or harrowing.  Fortunately, I had no time to worry about such things. We had fire, food, water, and a great camping location.  Though there are wild animals out here, like coyotes, few really posed any grave threat to us.  Fortunately, we were too tired to really care what was out there that could have potentially been a problem, we just set up our tent and bags and slept the 10 hours away.  The next day… however… proved to be even better.